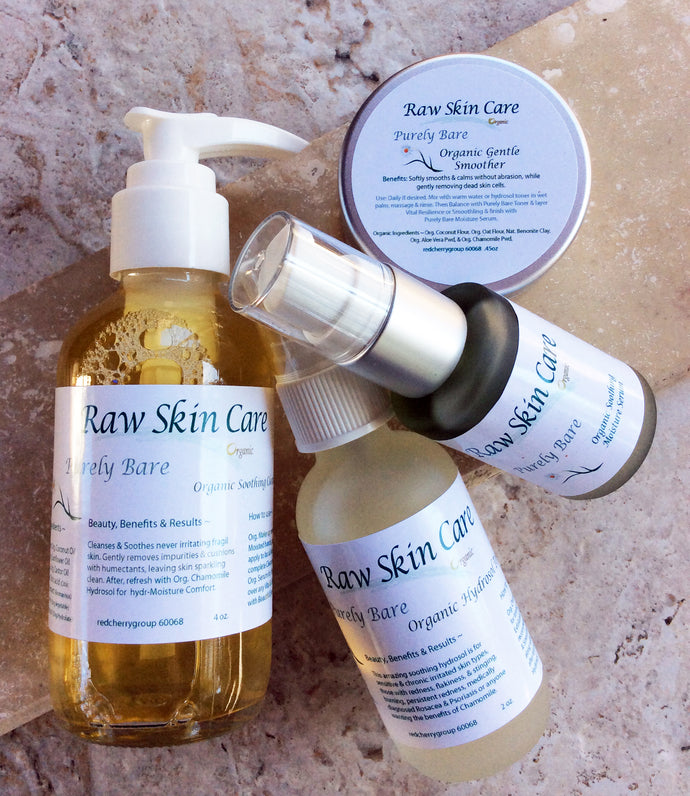 Purely Bare Skin Care Kit for Adult Acne and Hyper Sensitive Skins
Regular price $138.00 Sale
Purely Bare:
Perfect for most sensitive active skins like Adult Acne, Rosacea , Eczema and all skins under stress from inflammation. Excellent for pre and post Medical Spa Treatments like Laser and Deep Peels leaving the skin comforted by it's healing and calming ingredients.
This *Collection offers soothing ingredients of plant dried leaf and extracts including the fresh botanical flower of chamomile mixed to perfection, making it wonderfully healing and strengthening. Additional plant leaves and buds are ground to a fine powder including Coconut and Oat Bran mixed with Organic Aloe Vera and Chamomile flower in the scrub to completely refresh and correct inflammation.
*This Collection Home Care includes a Purely Bare 2oz. Cleanser, Balancing Hydrosol Chamomile 2oz. Toner, Balancing Gentle Clay and Plant Bran Skin .45oz. Smoother Scrub-Mask and  Calming Nutrient Skin Conditioning 1oz. Serum
*Please look through each Product Type for Full Organic Ingredient Listing.