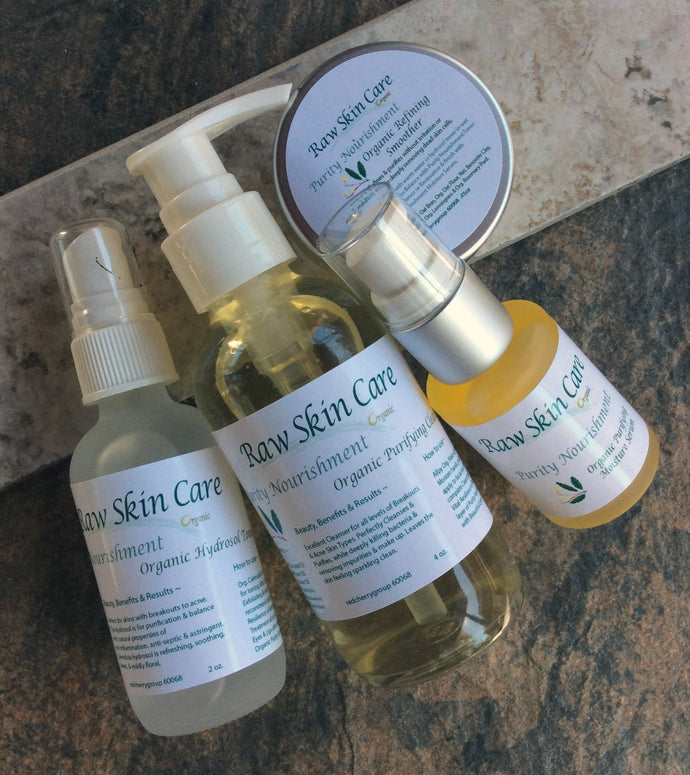 Purity Nourishment Skin Care Kit for Oily and Acne Skins
Regular price $126.00 Sale
Purity Nourishment:
This skin care kit is formulated specifically to provide nourishment for oily and acne prone skin. It is comprised of a 100% organic moisturizing serum, which is clinically proven to reduce breakouts and reduce excess oils on the skin's surface. By providing gentle hydration, it reduces the need for harsh, drying agents, leaving skin feeling soft and balanced.
Perfectly formulated to work alone or with those using Dermatological Aid to ease the frustration of breakout and Cystic Acne. It deeply purifies troubled Skin that tends to breakout with the addition of troublesome sensitivity. This formula kills bacteria, cleanses and purifies without drying delicate skin, which is most important, as the more your dry out the skin the more oil and surface debris it produces. It also removes makeup very well (must cleanse twice with makeup) and leaves the skin very refreshed. Our Purely Bare Collection is designed for very inflamed and chronic sensitive and Adult Acne.
This *Collection offers Organic Essential Oils and Organic Pant Dry Herbs of Calendula, Ylang Ylang, Lemongrass and Rosemary along with detoxifying and healing Sesame and the immediately inflammation arresting oil of pure Jojoba.
Home Care includes Purifying 2oz. Cleanser, Balancing Calendula 2oz. Toner, Purifying Multi Organic Plant Skin .45oz. Smoother and Balancing Skin Conditioning 1oz. Serum.
*Please look through each Product Type for Full Organic Ingredient Listing.