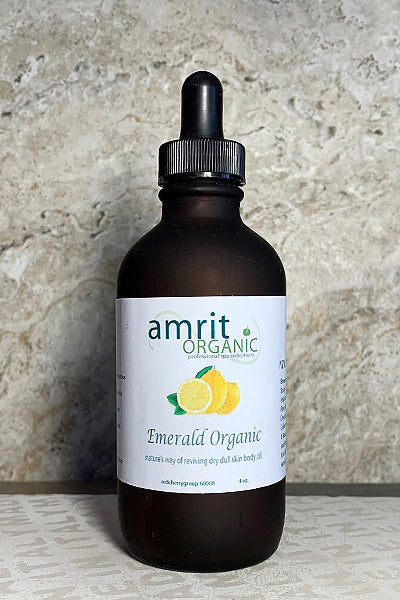 Emerald Organic Revive Body Oil
Regular price $65.00 Sale
Emerald Organic Purify and Revive Body Oil is formulated on the principles of Detoxification and toxin removal, sweetening by wet citrus revival and rich emollient skin nutrients supports and creates the most beautiful skin.
Emerald Organic Purify and Revive Body Oil perfectly satisfies the thirsty dry skin and balances the texture of even oily skin types. Skin relaxes by fulfilling its need of daily conditioning.
Emerald Organic Body Oil's Aroma is attracting to the senses bring a feel of joy and care. The skin immediately look glowing and hydrated. Its ginger infusion is pleasantly Spicy with Citrus Fruit over tones which makes it anti-bacterial and Purifying. 
For the Bath (do not pour in the bathe, it's a waste) apply to your body liberally and dip into a warm bath and relax. Then scrub up and rinse. Outside the bath, reapply and rest very well, letting the beautiful therapy do its job.
Featured Organic Ingredients:

Sunflower Oil - higher in vitamin E then any other oil, supplements skin nutrition & high in oleic acids 6 & 9, relieves dryness & promotes tissue repair (especially beneficial for sensitive skin), & is a highly potent anti-oxidant with anti-aging action
Avocado Oil - Super anti-wrinkle action & whole skin nutrition with high Oleic & Essential Fatty Acids, Vitamins C & D, Carotenoids & Lycopene, wonderfully hydrating & rich in ways no other oil is!
Ginger Oil - Warming & a perfect detoxifier, helps to increase blood flow & balance body temperature
Lemon Oil - Kills bacteria, balances & purifies
Lime Oil - Highly anti-oxidant, anti-bacterial, anti-viral, astringent, disinfectant & tonic
Full Ingredients:
Org. Sunflower (Helianthus annuus), Org. Jojoba(Simmondsia chinensis), Org. Avocado (Persea americana) Organic Ginger Root (Zingiber officinale), Org. Lime (Citrus aurantifolia), Organic Lemone (Citrus limon)