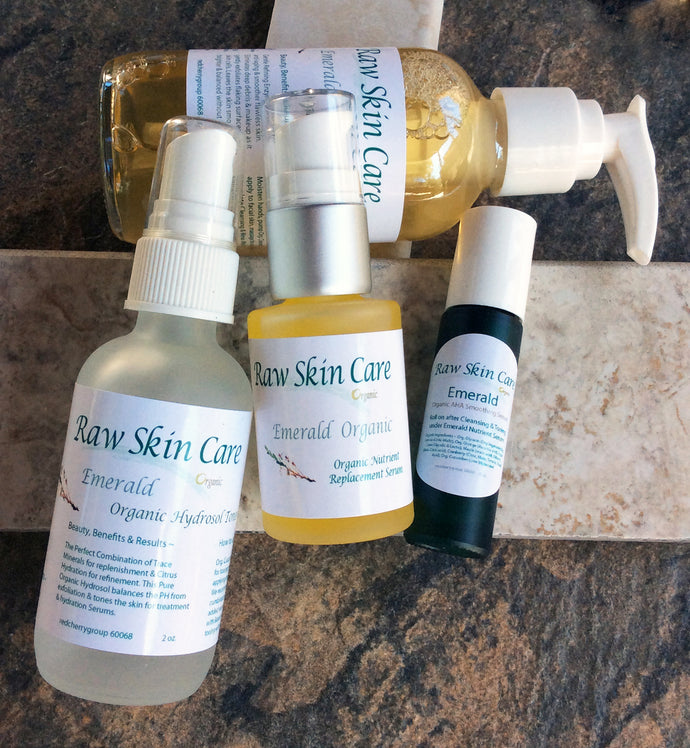 Emerald Organic Refining Kit for Sensitive, Acne and all Skins
Regular price $154.00 Sale
The Emerald Organic Refining Kit is the perfect choice for those looking to reduce signs of aging and improve the health of their skin. Our natural ingredients are gentle enough to use on the most sensitive and acne-prone skin, yet strong enough to make a difference. Our proprietary blend of organic oils and natural extracts, combined with powerful antioxidants, helps to reduce wrinkles and refine pores. Give your skin the care it needs with the Emerald Organic Refining Kit.
Emerald Organic:
Perfect for all skins wanting an occasional or intermittent Gentle AHA Treatment regime that will work with any of our Collections. It begins with mild enzyme action to help the skin soften and release debris for more AHA refinement and ending with super plant nutrients to replace lost skin essentials.
Each piece in this Collection stands alone for it's wonderful actions and can be introduced within any Collection. The Full Emerald Organic Collection Treatment can be used for several weeks for deeper anti-aging exfoliation and then going back to one of our daily collection or used when needed. That's how to maximize using all AHA formulas for Anti-Aging exfoliation. Also for maximum results we recommend a great deep cleansing facial to kick start all anti-aging programs.
This *Collection offers a natural enzyme formula and organic Hydrosol Plant Distillates of Cucumber Lime for light acidity and trace mineral prep. Additional Plant benefits come from organic fruits used for the AHA distilled tincture and nutrient rich Jojoba, Flax seed, Avocado and Coconut oils.
*This Collection Home Care includes a Emerald Organic 2oz. Enzyme Cleanser, Balancing Hydrosol Cucumber Lime 2oz. Toner, Emerald AHA Treatment .45oz. Serum and Nutrient Rich Skin Supporting and Strengthening 1oz. Serum
*Please look through each Product Type for Full Organic Ingredient Listing.