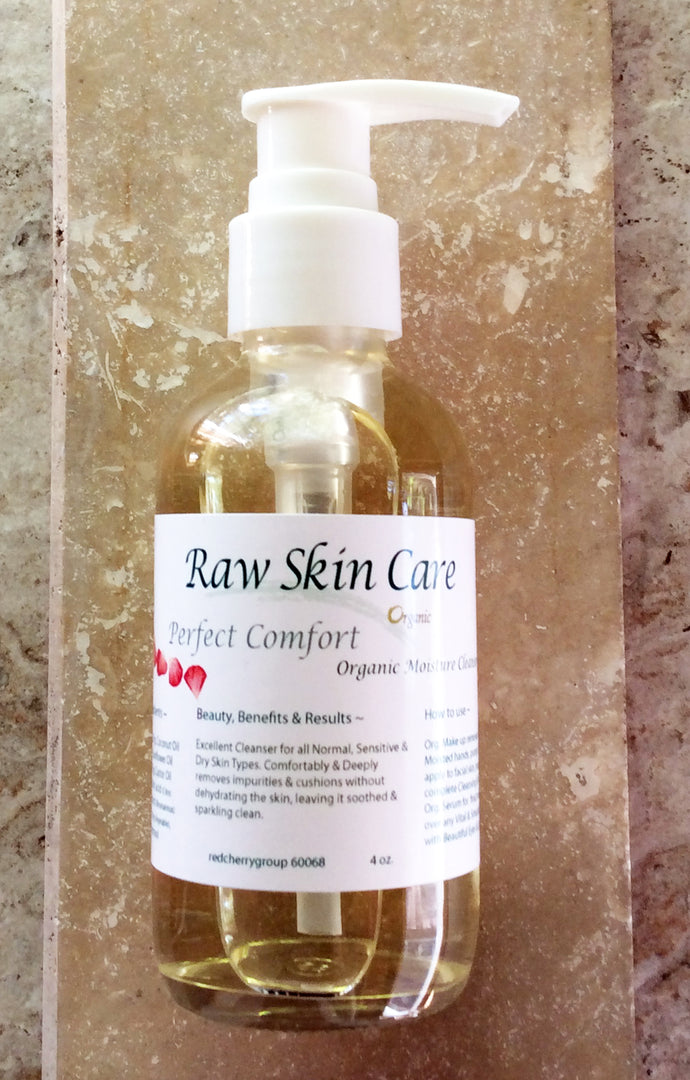 Perfect Comfort Cleanser
Regular price $42.00 Sale
Perfect Comfort Organic 2oz ~ 4oz. Cleanser is the perfect solution to dry skin that is sensitive from over exfoliation, the wrong products, hard water and general sensitivities that occur from seasonal changes. Let's not forget it's perfect for skin that is not oily or has shine (except for the nose), are moisture starved and feel dry or very tight all the time with some discomfort or sensitivity.
Perfect Comfort Organic 2oz. ~ 4oz. Cleanser gives dry skin a clean comforting feeling while it actively calms, soothes, hydrates, & refreshes your skin. It is perfectly formulated to gently deep cleanse the skin to remove debris leaving an incredible silky-smooth feel, because dry skin tends to be congested at times.
Experience:
The difference of comfort and its properties to aid in detoxifying the skin to smoothness as its therapy-infused plant extracts comfort and cleanse without striping or aggravating the skin back into chronic dryness & sensitivity. 
How to use:
Simply Place Perfect Comfort Organic Cleanser open and ready to use with Clean Towels and Hands. Wet hands with warm water, pump into hands, massage to light foam and massage over your face and rinse. You can also use your favorite warm cleansing towel or very soft facial cleansing brush.
But first, we love our Organic Makeup Removers, we highly recommend My Micellar Oily Free Sensitive or Anti-aging Organic Complexion Cleansing Makeup Remover for warmer months and our Organic Lash and Make-up Remover during cold to very cold months. Find these wonderful products in our Make Up Remover Collection.
Full Ingredients:
Saponified Water, Org. Coconut Oil (Cocos nucifera), Org. Sunflower Oil (Helianthus annuus), Org. Castor Oil (Ricinus communis), Organic Citric acid (Citric Acid), Organic Rosemary Extract (Rosmarinus) and Organic Lavender Hydrosol (Org.Hydrolate).
This cleanser has no soap, toxins, preservatives, and hormone disrupting chemicals or synthetic ingredients or fragrance.
We formulate with simplicity for health and wellness.    
Read more about Perfect Comfort in the Collection Gallery