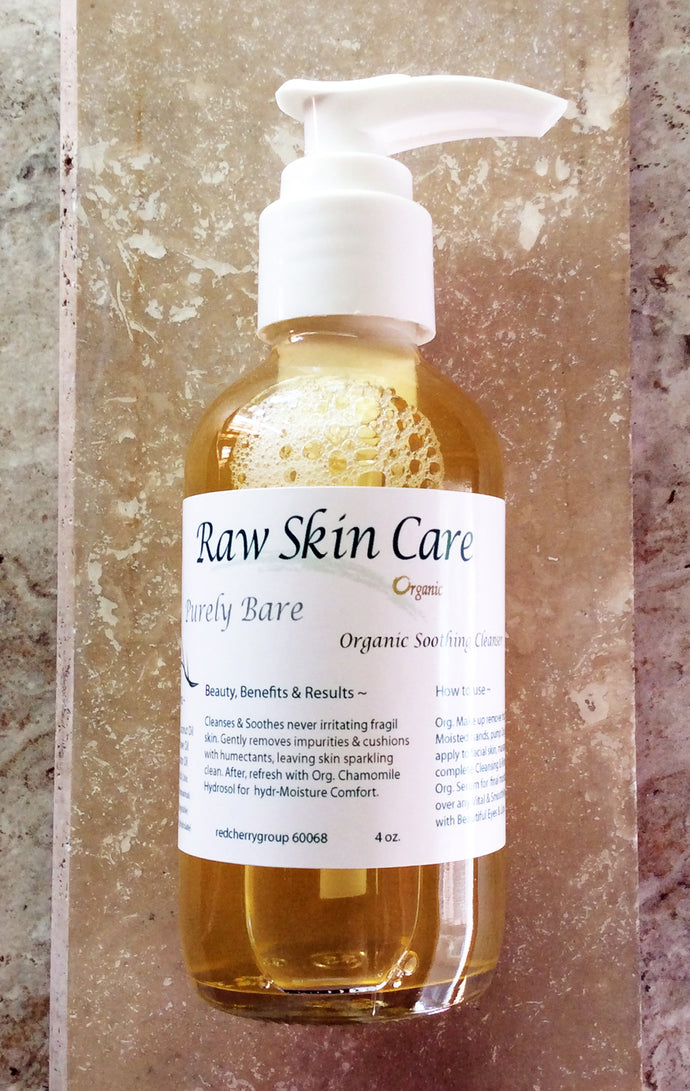 Purely Bare Cleanser
Regular price $40.00 Sale
Purely Bare Organic 2oz. ~ 4oz. Cleanser is ultra-comforting, super anti- inflammatory & works to calm, soothe and hydrate, while refreshing your skin. It gently deep cleanses to remove debris leaving an incredible silky-smooth feel. No stripping or aggravating here. 
Purely Bare Organic Cleanser is made for skin that cannot tolerate most products, have problematic reactions and are delicate and known as Hyper-Sensitivity. This includes, dryness, medically diagnosed Rosacea, Eczema, Lupus, Adult Acne, stinging, burning, redness, flakiness, and discomfort. For those that have said "Tried everything and my skin is still uncomfortable" then this is for you!
Excellent and recommended by Medical Spas for after (post) peels, microdermabrasion, lasers or facial procedure where the skin is left in a very delicate state.
Purely Bare Organic Cleanser for Acne is proven to aid in healing acne in teens and adults, making this Collection a great start for Acne sufferers prior to using our Organic Purity Nourishment Skin Purifying Collection, especially if irritated by traditional harsh products.
Experience:
The immediate anti-inflammatory relief to comfort chronic skin conditions or post therapy treatments. This Collection is made for relief, giving the skin the ability to naturally strengthen, build a better resistance when needed and aid in calming redness. Young acne skins can start here to anti-inflame and naturally detox and then move on to Purity Nourishment Organic Collection.
How to use:
First, because we love our Make Up removers we recommend using our Organic Lash and Makeup Remover with Purely Bare Organic Cleanser, because it gently loosens make up without irritation and has wonderful nutrients.
Simply place Purely Bare Organic Cleanser open and ready to use with Clean Towels and Hands. Wet hands with warm water pump a few drops of Make-up remover and massage over entire face. If you have mascara on apply a drop on fingertip for each set of lashes and spread over. Then Pump Cleanser into hands, massage over your face and rinse. You can also use your favorite very soft sponge or cotton pads. Hot towels and brushes are too hard and can over heat the skin resulting in hot spots.
Full Ingredients:
Saponified Water, Org. Coconut Oil (Cocos nucifera), Org. Sunflower Oil (Helianthus annuus), Org. Castor Oil (Ricinus communis), Organic Citric acid (Citric Acid), Organic Rosemary Extract (Rosmarinus) and Organic Chamomile Hydrosol (Org.Hydrolate).
This cleanser has no added soap or detergent, toxins, preservatives, and hormone disrupting chemicals or synthetic ingredients or fragrance.
We formulate with simplicity for health and wellness.