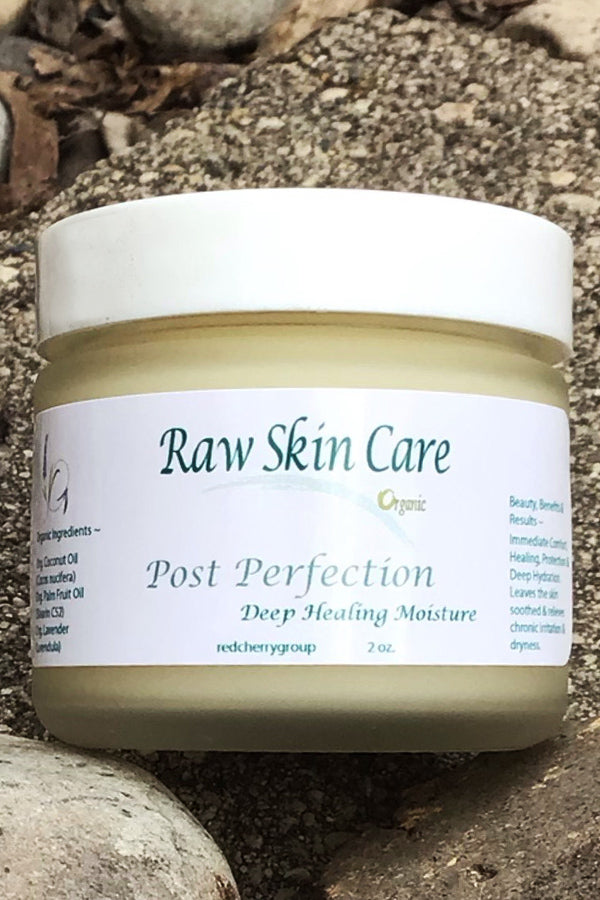 Post Perfection Deep Healing Moisture for the dryest irritated Skins
Regular price $46.00 Sale
 Post Perfection Healing Moisture  is a versatile balm for sensitive and very dry skin that react in irritating rashes to mild irritations from scrubs and exfoliation and constant uncomfortable conditions

Benefits include: deeply soothing, quick relief and skin refreshment. It softens skin texture and prevents callus development and soothes the skin back to normal beauty. It is Highly Recommended for exposure to sports environments, dry climates and skin conditions from age and environmental changes . Perfect for Rosacea, Eczema and Psoriasis skin conditions.

Full Ingredients:  Org. Coconut Oil (Cocos nucifera), Org. Palm Fruit Oil (Stearin C52), Org. Lavender (Lavendula)
We love the principals of super organic power for healing and maintaining growing beauty with no toxins, petroleum and synthetic stuff we can not pronounce.