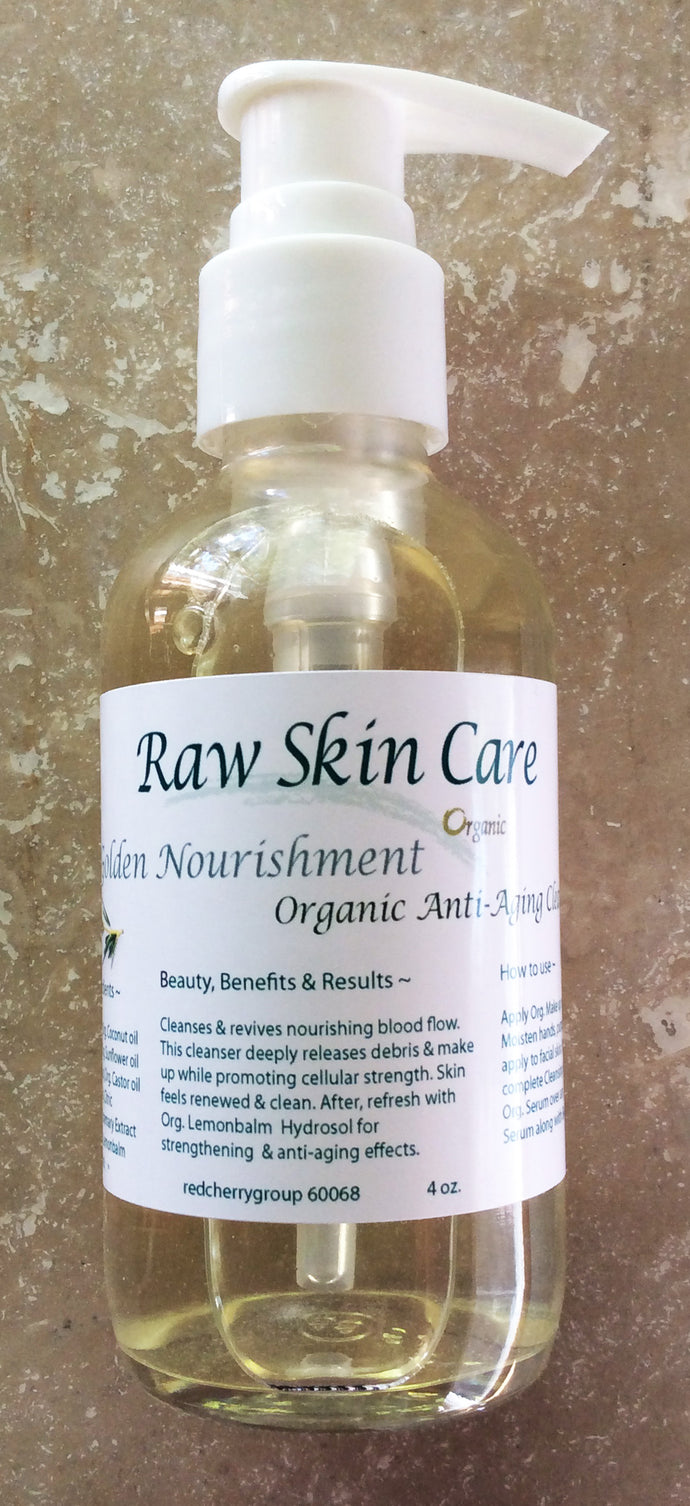 Golden Nourishment Cleanser
Regular price $40.00 Sale
This organic cleanser is designed to nourish and protect skin, reducing the look of wrinkles and improving complexion. Enriched with natural botanicals and vital vitamins, this cleanser helps to promote healthy cell renewal, offering a more youthful look with frequent use. Soothe, reduce redness, and nourish your skin with Golden Nourishment Cleanser.
Golden Nourishment Organic 2oz. ~ 4oz. Cleanser is stellar for dry and slightly dry, sun exposed skins just starting to see visible lines, wrinkles and sagging and for more advanced aging skins and everyone wanting a deep non-stripping cleanser that leaves the skin's fragile surface with no filmy residue.
Golden Nourishment Organic is as refreshing as it is perfectly formulated to deep cleanse and remove debris. You will see the dramatic difference of therapy-infused essential plant extract properties that calm & purify for all the various stages in the aging process.
Experience the finest in Anti- Aging defense. This collection is rich in super anti-aging and reinforces strength and resilience preserving essential nutrients.
How to use:
Simply Place Golden Nourishment Cleanser open and ready to use, plus Clean Towels and Hands. Wet hands with warm water, pump into hands, massage to light foam and massage over your face and rinse. You can also use your favorite warm towel or facial cleansing brush.
But first, we love makeup removers so much, we highly recommend using My Micellar Anti-Aging Complexion oil free Cleansing Water for makeup and water-resistant mascara. We also offer Lash Conditioner and Water Proof Makeup Remover for water proof makeup. Find then in Our Organic Make Up Remover Collection!
Full Ingredients:
Saponified Water, Org. Coconut Oil (Cocos nucifera), Org. Sunflower Oil (Helianthus annuus), Org. Castor Oil (Ricinus communis), Organic Citric acid (Citric Acid), Organic Rosemary Extract (Rosmarinus) and Organic Lemon Balm Hydrosol (Org.Hydrolate).
This cleanser has no soap or detergents, toxins, preservatives, and hormone disrupting chemicals or synthetic ingredients or fragrance.
We formulate with simplicity for health and wellness.
Read more about Golden Nourishment in the Collection Gallery