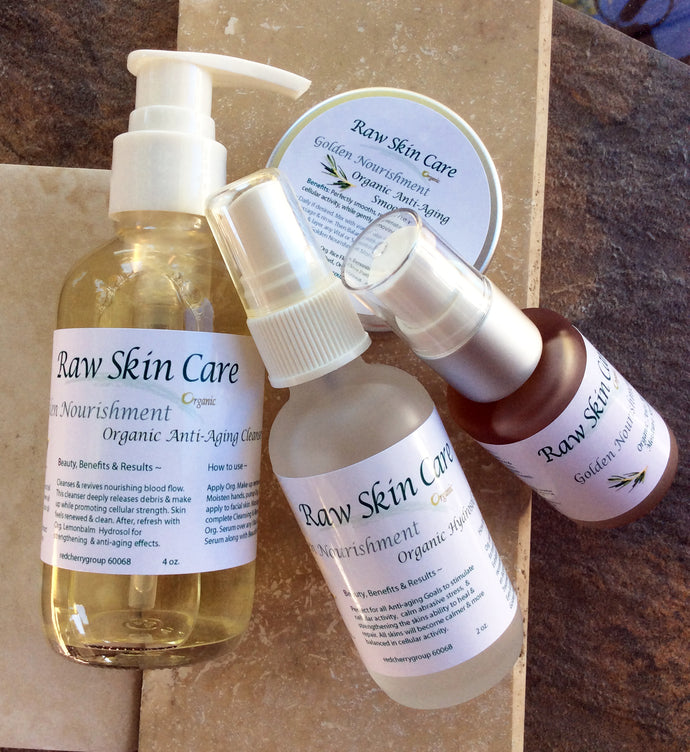 Golden Nourishment Skin Care Kit for Normal to Dry Skins
Regular price $138.00 Sale
Golden Nourishment:
Perfect between High Science peels and treatments, as well as a favorite for natural resilience building and true natural anti-aging health for all skins. Organic Essential Oils of Cinnamon, Clove, Rosemary and Lemon make this a good cell including collagen stimulating and nutrient replenishing collection, in addition it is amazing daily support for Cosmeceutical Chemical products and our Organic Vital Serums for maximum anti aging target results.
This *Collection offers beautiful organic ingredients like Organic Pumpkin Seed Oil loaded with three omegas and Vitamins A,D,C, natural exfoliating Pumpkin Flake, soothing Organic Angelica with organic plant flours and oat brans which are perfect purifying and super nutrient.
*This Collection Home Care includes Golden Nourishment 2oz. Cleanser, Soothing Lemon Balm 2oz.Toner, Perfect Golden Skin .45oz. Smoother and Golden Pumpkin Skin Conditioning 1oz. Serum.
*Please look through each Product Type for Full Organic Ingredient Listing.