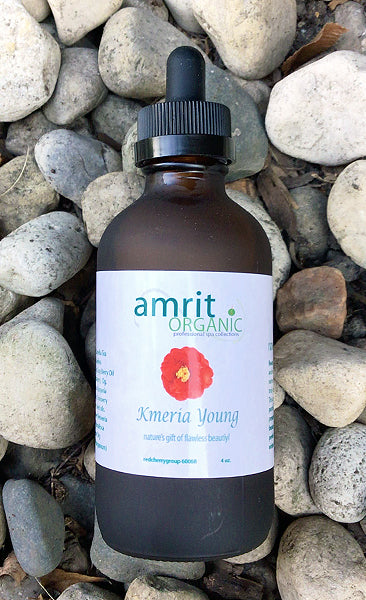 Kmeria Youth Anti Aging Body Oil
Regular price $65.00 Sale
Kmeria Youth Body Oil is the most exclusive oil blend created for the women that care diligently for her Body. This blend is made with the number one virgin organic ingredients that are endorsed by the Global Wellness Association that researches and educates for the future of health and wellness.
Kmeria Youth Body Oil's Blend includes:
Precious Organic Gogi Berry: perfect for maintaining the skin environment healthy for the production of proteins, collagen and elastin. Gogi Berries are super powerful because they hold active benefits.

Camellia Organic Virgin Oil: it's so light it penetrates the skin quickly making it perfect for the most oily and acne skins. Camellia has one of the highest active impacts for anti-inflammation, anti-bacterial and wonderfully astringent. It perfectly hydrates and defies wrinkle formations.
Cranberry Organic oil: super fruit which supports omegas and anti-oxidant loss. Cranberry is the strongest berry-super fruit which enables it repairing properties. It is one of the best super fruits for over stressed and refined skins.

Raspberry Organic Extract oil: this super fruit is fragile and powerful making it exclusive and rare in cosmetics. It is perfect for adding powerful ant-oxidants of L 6 & L 9 supplementing the power of strength against free radicals that cause wrinkles.
Vitiver Organic: is the best aromatherapy extraction for cell regeneration and is Hailed for it. This beautiful extract repairs scaring, heals abrasions and excellent for challenged skin like acne.
Palma Rosa Organic Extract: is a pure flora youthful cell building power that instantly maintains hydration and eliminates dryness. It's natural anti-aging properties include cell repair and support.
Geranium Virgin Organic Extract: a supper balance extract that not just balances other extracts and aroma but it streamline power nutrients to performance and perfection giving the entire blend it's active results.